No Job is too Big or too Small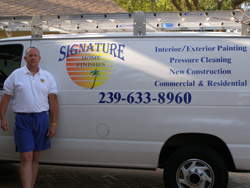 Signature Home Finishes, Inc. is a family owned business that Jeff Falls started in 2002 in Fort Myers, Florida and has expanded to Charlotte, Collier, Hendry, and all of Lee County. We are fully licensed and insured and also a member of Waterside-BNI. We provide all aspects of painting including, but not limited to interior and exterior painting, faux finishes, wallpaper stripping and application, wood staining, and much more. Jeff began his painting career more than 25 years ago gaining his experience painting custom homes for some of the most prestigious home builders in the United States. Over the years, Jeff has taken his "custom home" experience into every home we paint. No matter what size your home may be, it is still considered a "custom home" to us. After working with Interior Designers for so many years, Jeff also has the ability to help with color selections, wallpaper choices, and design ideas. Jeff has also spent many years working on commercial projects such as interior build-outs, exterior repaints, and new construction.

Being a member of Waterside-BNI and working closely with extremely reputable builders in South West Florida, Jeff also has the ability to refer other licensed and insured contractors to you for your needs, whatever they may be.

Jeff does all estimates personally and estimates are always free. He will be happy to sit down with you and show you pictures of completed projects or take you to personally visit some in progress or completed projects.

Each and every project is personally overseen by Jeff on a daily basis. We do not accept final payment from our customer, whether it is a builder or a homeowner, until the completed project is not only approved by you, but also approved by Jeff. And to make it easier for our customers, we now accept all major credits cards with no additional fees.
Licensed: Lee #PT09-00721 Collier #24251 Service Area: Charlotte, Collier, & Lee Counties